Top 5 Pool Vacuum Cleaners For Above-Ground Pools: 
When it comes to above-ground pools, one of the most important pieces of equipment you can have is a good vacuum. Not only will it help keep your pool clean, but it can also extend the life of your pool liner. However, with so many options available in the market, it can make picking out the right vacuum difficult for you. So, what are the best pool vacuum cleaners for above-ground pools in 2022?
The Top 5 Pool Vacuum Cleaners for Above-Ground Pools In 2022:
So, now that you have an idea of the top five pool vacuum cleaners for above-ground pools, let's discuss the factors you need to consider when purchasing a pool vacuum cleaner before examining each of these top options in greater detail below.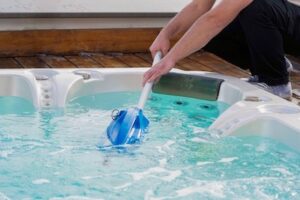 Things to Consider
There are a few things you need to consider when choosing a vacuum for your above-ground pool. The first is the size of your pool. You want to make sure you get a vacuum that is the right size for your pool so that it can reach all the nooks and crannies. The second thing to consider is how much suction power you need. If you have a lot of debris in your pool, you will want a vacuum with strong suction power.
Now you need to decide what type of vacuum you want. There are two main types of above-ground pool vacuums: manual and automatic. Manual vacuums are cheaper and easier to use, but they require more effort on your part. Automatic vacuums are more expensive, but they do all the work for you. No matter which type of vacuum you choose, make sure it is the right size and has enough suction power for your above-ground pool.
Finally, the last thing to consider is your budget! The pool vacuum cleaners on this list range in price from under $200 to just under $1000. If you'd like to get more details about a particular product on this list, we've made it even easier for you! Simply click on any highlighted text to be taken directly to that product on Amazon.com. Now, let's DIVE into this list!
The Water Tech Pool Blaster Max Li is an innovative cordless vacuum designed to clean your entire swimming pool in minutes. It works independently of any pump or filter system, so you can enjoy a stress-free experience without worrying about additional wear on those components! This powerful machine has one job: picking up all sorts of leaves and sand from every surface – fiberglass covers included (even if they're vinyl). With its large debris chamber matched by X-Treme Multilayered Filter Bag technology that easily removes even stubborn dirt like twigs underwater; this revolutionary product makes maintenance quick & painless!
Review:
 This works extremely well and has great suction power
I am extremely happy with this product. It came a day earlier than expected. Charged quickly and instructions were super easy. This little beast is dynamite!! We have a four-foot-deep lap pool that is 40 feet long. We had had pockets of grit and dirt that I had not been able to get off the steps or off the floor of the pool and this vacuum worked incredibly well. I absolutely recommend it!!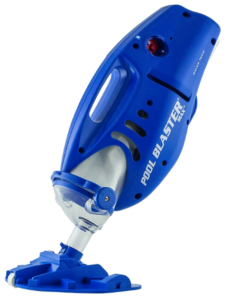 The Aiper Pool Vacuum is a sleek and modern way to clean your pool. No more worrying about cords getting in the way, as it has a 100% cordless design that enables you to enjoy freedom from entanglement or power short-outs! The vac lasts up to 50 minutes on average for round above-ground pools (up to 30′ diameter) and flat bottom in-ground ones like my own at home here today–so don't let those cumbersome accessories hold you back any longer! The Pool Cleaner has two powerful motors that provide suction action, and propel it forward at 52.5 ft/min speed with scrubbers on the bottom to scrub out dirt from your pool's floor while picking up leaves or other debris in their path!
Review:
Wow, I wish I got it last summer. This little vacuum works great for cleaning the pool. I have an above-ground rectangular pool, it's no issues with going in and out of corners. For the price, worth every penny.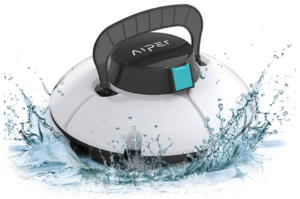 The world's first robotic pool cleaner that does not need a pump or filter to work. Just set it up, turn on the power and watch as Dolphin Advantage cleans your whole above-ground or in-ground swimming pool within 2 hours! The Dolphin advantage cleans your pool with ease, leaving you free to enjoy it. With its three-setting cleaning schedule and ability clean daily or just on those days that suit best for you; there's no need to worry about scheduling a pool party!
Review:
Works great
Have had the dolphin advantage robot cleaner for about a month now works great have a 36 ft pool and it's crazy shaped does a great job except for our tanning ledge it misses a spot or 2 here or there but cut our cleaning time way down may have to get a spot once a week or so but just a small spot, all in all, works great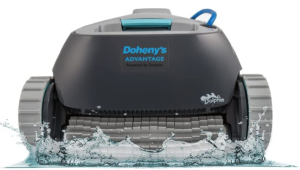 The robotic pool cleaner was designed specifically for above-ground pools up to 33 feet. Efficiency and convenience are key when it comes to cleaning your swimming pool because you can save time without sacrificing quality! This amazing Aiper model features two powerful drive motors(150W each), and superior filtering capabilities along with floor scrubbing—allowing me an easy way of getting my job done in just 2 hours or less every week while still enjoying life!
Review:
 easy to use and clean, holding up good so far
No long stupid hoses, or beating the pump to death, using in 30 foot round above/below no issues, cleans easily, hold it level before removing from water. hope it lasts as long as a dolphin. so far so good, left in in water overnight by accident, no problems at all. You may have to tune the nozzles at each end but other than that we're in the clear!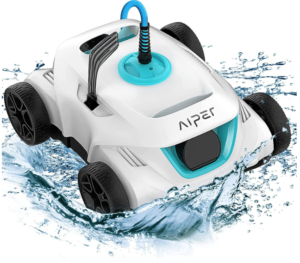 The Agile and efficient Nautilus CC robotic vacuum was designed to clean above-ground pools up 33′ in just 2 hours. With superior scrubbing capabilities, you can relax knowing that your pool's floor will be left exceptionally clean while still being able to store all of those extra supplies for quick access when needed without worrying about them getting tangled or damaged! Keeping your pool clean is easy with the Nautilus CC. With three settings to choose from, you can set it up so that a robot will be there every day or just on certain days of the week!
Review:
Sometimes leaves a spot where it doesn't clean but overall a good cleaning robot
Great job on the pool walls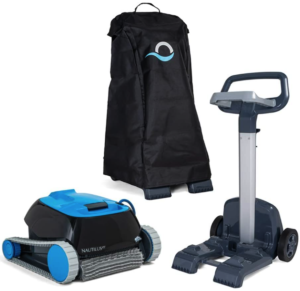 Conclusion
Thank you for reading my article about the top pool vacuum cleaners for above-ground pools in 2022. I hope that it was helpful in choosing a unit to meet your needs and is ready, click on one link above which will take you directly to Amazon's site where can quickly complete transactions without any hassle! Thank you again so much, have an awesome day!