Looking for a kids' pool that's both fun and affordable? Then a kid Intex play pool is the perfect option! These pools are made of durable materials and feature plenty of fun accessories, making them a great choice for kids of all ages. Plus, they're easy to set up and take down with their inflatable design, so you can enjoy them all summer long! However, there are a lot of them to choose from but don't worry, we made a list to help you pick one for your small yard. The top five Intex play pools for small yards are:
A kids pool is a great way to keep your children cool and entertained during the summer months, but before you buy one, there are a few things you need to consider. To find out everything you need to consider before buying a kids pool, as well as what Intex kids play pools are the best and why they are the top models, keep reading to the end!
Top 5 Kid Intex Play Pools for Small Yards
The summer heat can take its toll on you, so why not escape the sun and enjoy some water fun? The Intex Rectangular Frame Baby Pool is perfect for keeping up to 6 people cool. With 439 gallons of capacity, this pool has plenty of room in it! The sturdy steel frames are powder-coated for durability and beauty, with laminated sidewalls that have been reinforced by an all-around band to keep the frame legs securely in place. You'll be able to create your own oasis with ease as soon as 30 minutes.
Review:
Easy to set up, Instructions were clear. I am seriously thinking about buying another one for Camping! Enough space for water exercise. We added a pump/filter and it creates a perfect backyard oasis. We used foam (for under laminate flooring) as an underlay, very comfortable.

Have you been looking for an easy-to-setup pool that your children can enjoy? The Intex Mini Frame Swimming Pool is perfect! With its durable frame, water-resistant material, and drain plug this miniaturized accessory will have everyone in the family smiling on those warm summer days. The fun doesn't end when the sun goes down! Make sure you get your hands on this great pool for kids aged 3 and up. It's 48 inches wide, with a depth of 12″, making it perfect whether they're looking to splash around or take some time out from playtime in peace.
Review:
I received the product promptly. It was bigger than I thought but overall very great size. I have a 6yo, 3.5yo, and 1yo. All my children were able to get in and out of it with ease and have very little help. I was able to sit in it as an adult with my 3 children.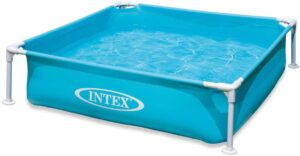 The Easy-Set Pool is a great way to enjoy your backyard without the hassle. This vinyl liner pool can be purchased separately and features an inflatable top ring, and multi-layer wall construction making it durable, as well as fun for your little one children, are always looking for ways to have fun, so why not provide them with none stop fun having pools.
Review:
This ended up being perfect for us! Our community pool is pretty gross and overcrowded, and our two-year-old daughter is still learning how to swim. We had a little plastic kiddie pool but I wanted something that was big enough for me to get in and practice with her. It's short enough for her to stand in when fully filled, but very generously sized… I would guess you could easily fit at least 5 adults in it comfortably if you wanted.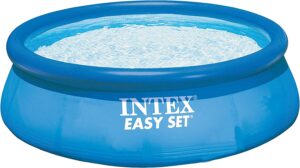 This inflatable swimming pool is big enough to fit two adults and up to four children at the same time! This pool is a great option because now you can join in on the fun when your kids are splashing about in the pool. This pool is a great blow-up pool for adults and their kids. With it being crafted from a strong heavy-duty material, this above-ground swimming pool is much more puncture-resistant than other inflatable pools on the market. Additionally, the pool is nearly two feet deep so it provides comfort for adults as well. This is a great choice for swimming, wading, and lounging in the sun.
Review:
First, this thing is huge! Filling it up took about an hour. Kids love it and have been swimming in it every day since I got it. So far so good, no complaints. Also, I found it to be much cheaper than similarly sized ones on Amazon.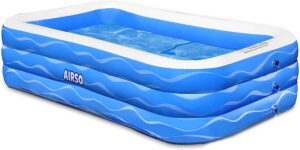 If you're looking for a place to splash around this summer, take note of the Intex swim center family lounge pool. The wide side walls give maximum play room kids and adults will love lounging in their own private corner while they enjoy some time away from screens. This Intex pool is the perfect place to relax with your family on these lazy summer days with its built-in bench for comfort, and its cup holders. Another great feature of this is the drain plug, which makes releasing water so simple and easy so that you can enjoy more time in this pool.
Review:
This pool is perfect for kids or adults! We have used it with the little ones and had all grownups just hanging out beating the heat. Love the bench and the cup holders. We have it set up on our porch and it's great.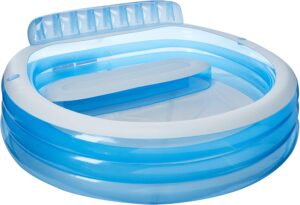 Things to Consider in a Kids Intex Play Pool
While you may now know what our picks for the top five Intex kid play pools are, there are some other things you need to consider when picking out a kid Intex play pool for small yards.
Size
First, you need to decide what size pool you want. There are many different sizes of kids' pools on the market, so it's important to choose one that will fit in your backyard and that your children will be able to enjoy.
Shape
When choosing between different shapes of kids' Intex pools, there are a few things you'll want to keep in mind. First, consider the size of your backyard and how much space you have for the pool. Also, think about how many kids will be using the pool and whether they'll be swimming laps or just splashing around. Rectangular pools are great for swimming laps, while more kid-friendly shapes like octagons or circles might be better for playing games. So, you need to think about what kind of shape you want in a pool and also consider what your children would like best and choose a pool accordingly.
Price
When it comes to kids' Intex pools, there are a few things that can affect the price. The first is the size of the pool, the larger the pool, the more it will cost. The second thing that can affect the price is the features that are included with the pool, as things like slides and a ladder can add to the cost of the pool. While so many people focus on the costs of more luxurious items, it should be stated that. With so many great options available, you're sure to find the perfect pool for your backyard oasis.
Conclusion
An Intex pool is a great way to keep your kids entertained during the summer. They're easy to set up and take down, so you can use them as often as you like without any hassle due to their inflatable design. Plus, they're very affordable, so you won't have to spend a lot of money to keep your kids happy. However, remember that owning a pool, especially when you have kids is a big responsibility. As you need to make sure that you have the proper safety equipment, which could include a ladder or steps to get in and out of the pool, as well as a fence to keep children from getting into the pool without supervision. So, with this list of our picks for the top 5 kid Intex play pools for small yards and our tips, you can be sure that any of these Intex pools will be a great kids' pool for your backyard this summer. Happy swimming!