DIY Ideas For Kids Above Ground Pool
Many people set up their child's above-ground pool and leave it at that. There are many fun and creative things you can do to make your child's pool experience even better. The main thing is to improve the look of the area and make the pool a part of your child's environment.
You might have to call a professional contractor if some ideas are too heavy or costly for you to attempt. That will not be the case most of the time as these DIY projects are very basic and easy as long as you follow some simple safety precautions. In this article, you will find inventive ideas that should help your child's pool stay clean and safe as well as give it a custom look.
There are unlimited ideas you can come up with to make your child's pool a place they want to spend time in. It is only limited by you and your child's imagination. Here are some great ideas that will give you a good starting place. Take your time and read over them. See if you can incorporate some of the ideas and add your own unique touch.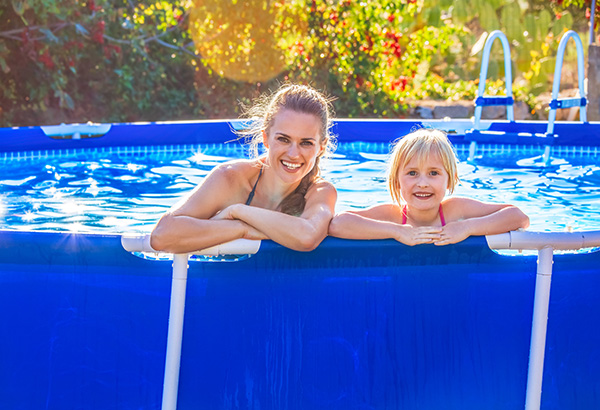 Paint It
One simple way to dress up your pool is to paint it. You can paint the pool any color to match your child's theme. If you want, you can also add decorations to the outside of the pool or even paint on some fun designs on it. You can choose any color you like, or go with a fun pattern.
Be sure to use non-toxic paint that is designed for pools. Follow the manufacturer's instructions for application. Include the kids while your painting and they'll enjoy helping and will have a pool that is truly their own.
You can even have the kids design how they want it to look. It gives them something to do and it can encourage their creativity.
Add Some Plants
It's no surprise that above-ground pool landscaping with a lush garden design is the most popular approach to make your pool more appealing. Install easy-to-maintain plants like bushes or grasses.
Adding raised shelving to place the plants around the pool is a good idea, and it can help with safety issues as well. Using retaining walls or stonework is another DIY landscaping option for both above- and in-ground pools.
If you use them, be sure to put supports under them so they don't crumble over time, especially if the pool ends up being used by kids.
Cover with mulch for a clean appearance and to increase plant life. A pool isn't complete without some plants! Add some aquatic plants to the pool to give it a more natural look.
Install a Pergola
A pergola is a great way to add some shade to your pool area. You can add it near the pool, or opt for a larger structure that extends over the entire area.
It can be made from a variety of materials, and it's a perfect project for those with some carpentry experience. A pergola can be enjoyed year-round, and it's a great summer project for the whole family.
The limits on how to build the pergola are up to you, but they should be sturdy enough to support a good amount of weight.
Install Lights
Soft lighting, like lanterns, candles, tiki torches, string lights, and more is a lovely and cost-effective method to brighten up your outside sanctuary for quiet evenings or small parties by the pool. Just remember to put out all flames before turning in for the night.
Light up the night for less by installing inexpensive solar landscape lights. These are easy to install, and they look nice at night. Lights are a great way to improve the appearance of your pool area at night.
You may use a variety of lighting choices to provide ambiance. If you're searching for a cheaper option, consider installing a few solar-powered or low-voltage lights.
Lights do, in fact, provide a certain ambiance that will complement your pool area well. For those who come home after dark, night swimming might be enjoyable, and the soft lights will be relaxing and make the atmosphere better.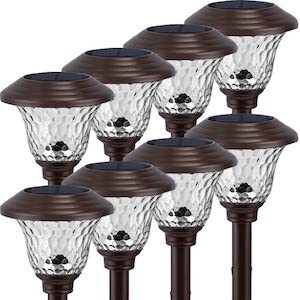 Reinforcing The Pool Wall
It's important to make sure that your pool wall is strong enough to hold water so it doesn't collapse. You can use a wooden frame to help reinforce the walls.
Cover the surface of the pool with wood planks to maintain its original look. Follow directions for proper installation, and be sure that you include your children in this project so they don't get hurt.
If your pool isn't in use, you can opt to do this project in the off-season when it's easier to work with the ground. A strong pool wall is essential for safe swimming! This DIY backyard idea is important because you wouldn't want an accident on your hands if the pool wall gave out.
Similarly, you can replace the cheap plastic wall with a tougher material of your choice. Reinforcing your pool's walls can ensure greater safety for all swimmers. The materials you use will depend on your budget and the look you want to achieve.
Add a Fence
Use a bit of creativity, make a hiding spot for a pool for their bright blue pool surround it with fencing and ornamental grasses. You can build a small, shady deck out of 2x4s and cinderblocks.
A fence is a must-have for any pool, and it's a great way to improve the look of the area. You can choose a traditional fence design or go with something more creative. Just be sure to follow any local regulations regarding pool fencing.
It can also create a more relaxed area for the ladies who want an outdoor space of their own. A pool fence isn't just for safety, it's also great for privacy if you plan to swim in the nude!
Create a Lounge Space Around The Pool
This basic rectangular pool gets a stylish, extra seating addition with a built-in wood seat and cushions. It's a low-cost way to create an inviting spot in the pool area.
They're perfect for solo sunbathing, shade, or resting while keeping an eye on children in the water. This is a great idea for making your pool more relaxing.
You can add a built-in bench or simply create a lounge area with an assortment of comfortable cushions and pillows around the pool. This encourages a longer stay in the water.
The possibilities for this project are endless, just be sure to follow any safety precautions recommended by your local pool store.
Trim It In River Rock
Edging your pool with inexpensive river stones or pea gravel is a gorgeous and quick option to traditional garden landscaping, regardless of the shape of your pool: round, rectangular, s-shaped.
This is a great way to improve the appearance of your pool area. You can choose from a variety of materials.
Learn how to install premade edging kits, or create one using rocks, and if you live in a rainy climate, a liner may be a good option if you don't want water pooling near your deck's foundation.
Add a Deck For Easy Access
Decks are ideal for entertaining and lounging, with an endless number of design possibilities to make your above-ground pool a part of your landscape.
Building a deck around your pool is an easy way to improve the look of the area. You can create a minimalist design or go with something more elaborate.
Appropriately sized stairs are crucial for safe access into and out of the water, so make sure you have them included in all plans before construction begins. Be sure to check whether or not your local municipality requires you to have one installed if you're planning on adding it.
Add a Water Feature
If you love the idea of having a waterfall or stream on your property, but don't want to commit to the weight and expense of natural stone, consider adding an above-ground pool water feature.
This is an easy way to improve the look of your area without spending too much money. You can create a miniature water course with rocks, or opt for a more elaborate design.
You can find premade fountains in most home improvement centers, but it's also easy to build your own with river stone and/or pea gravel. Be sure that your feature flows into the pool, not out towards the deck. Adding a fountain to your pool will make it the perfect entertainment spot.
Summary
The main thing is to improve the look of the area and make the pool a part of your child's environment. This can be accomplished through several design options, including edging with pea gravel or river stones.
Adding a fence is also an easy way to keep your child safe while they're having fun in the water. You may want to consider adding a deck or water feature to make your pool more entertaining. Keep in mind that no two above-ground pools are the same so it is best to be creative when trying to improve the look of any pool you may have.