Five Important Inground Pool Tips For Lighting
All inground pools have lights. Most people do not think about the lighting is not just for the pool. These enlightenments extend beyond just the pool itself. The pool owner should try to through in a mixture of pool lighting and area ambiance. You can create more than a pool at the house. You can create a getaway.
If you are planning on getting your inground pool lit, there are five important factors to consider before the installation process begins.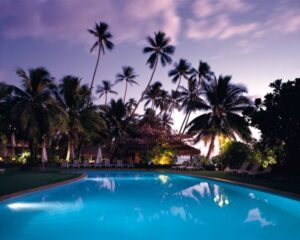 1. The Entire Area Of The Pool Needs To Be Lit
You have lights in your pool. You should consider lighting the region immediately surrounding your pool. The pool lights also illuminate the surroundings, adding to the beauty and usability of your pool at night.
Lighting the areas surrounding your pool will accomplish a lot more than simply making your pool more accessible. Your pool and home will have the appearance of a tiny resort. Lighting may be used to personalize and create the right ambiance for every event.
Is entertaining important? Lighting may be used to help you achieve any look or atmosphere you want. You could be arranging a romantic dinner by the pool. Lighting is important to make the room feel like you want it to. You can use lots of different colors, brightness, and other lighting qualities to change how the room feels.
In our experience, the majority of people are unaware of the impact lighting has. Customers frequently tell us that once they've had their pool area lights installed, they don't know how they ever functioned without them.
2. Use The Best Lighting
There have been many upgrades in lighting. Investing in high-quality lighting is a good decision. It is more likely to outlast your lifetime. There are plenty of different ideas to consider when it comes to lighting.
Different Types Of Lights For Your Pool
One of the most important things to consider before installing pool lights is the type of light bulb you would want. You have two options to choose from Halogen or LED lights.
Halogen Lights
The first type of lighting you need to be aware of is halogen bulbs. These lights are known for their bright illumination, but they're not very efficient.
Halogen lights produce a lot of heat, and they also use a lot of energy. They are a popular choice for pool lighting because of their brightness and relatively low price tag.
If you're looking for an economical option that will provide ample light, halogen lights are a good choice.
LED Lights
The other type of light bulb you need to be aware of is LED. LED lights are quickly becoming the new standard when it comes to lighting. These lights are incredibly efficient, and they also produce very little heat.
This makes them perfect for use around pools. They also have a long lifespan, meaning you won't have to worry about replacing them anytime soon. Another benefit of LED lights is that they come in a variety of colors.
This allows you to create the perfect atmosphere for your pool. Most high-quality bulbs can also be used with a remote control to create any sort of atmosphere you desire without leaving your chair.
3. Add Color To The Water
Another wonderful benefit of pool lighting is that you may personalize it to your needs. Adding colored lights to your pool is a lot of fun for kids.
Colored lighting can be used to create a cheerful party atmosphere or help bring life to your party idea. During different times of the year, you may use a variety of colored lights to create seasonal lighting or to add to the ambiance of any particular holiday.
Using colored lighting is adaptable in so many ways. It gives you the ability to spin it through various colors if that's what you're after.
4. Think Beyond Your Backyard and Home
Pool lights don't have to end at your pool and garden. Yes! It's time to brighten up your horizons by lighting additional areas beyond the ones that are currently lit. Think outside of the box for a moment.
Take a look around you. What do you discover? Do you have a side yard? What about adding some atmosphere lighting throughout your whole house? Consider putting up a few smaller themed sections around your yard, with various lighting.
What about a reading nook, shed porch, or dog play area? It is good to continue thinking outside the box. You might use some illumination in those places as well. There are limitless opportunities. Remember, there are unlimited options when it comes to lighting your pool.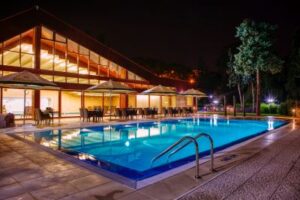 5. Do It Right, Get A Professional
When it comes to lighting, hiring a professional to create and install the system is usually the best option. Professionals have the knowledge and experience needed to create a wonderful pool lighting package.
When you hire them, they will not only install the lights but show you how to use them as well. This will save time and trouble later on if you encounter any challenges with their installation. If there is ever something wrong with your lighting, they will be the ones to fix it.
It is crucial to realize that electricity is not something to be taken lightly. A professional will be experienced and will know exactly what to do and what not to do when it comes to anything electrical being put in. Especially when it comes to installing electrical lighting in or near water.
Most of the time the company who built your pool can install your lighting for you. Upon installation, they either offer this service themselves or partner with other lighting companies that do. Professional lighting is an investment that will pay you dividends every night for as long as you own your home.
What If My Pool Is Already Lit?
In some cases, the homeowner may want to add more light around their pool without changing the current lighting system. This can be done by installing a separate lighting system for the backyard. This type of system is typically called accent lighting.
Accent lighting is used to highlight certain features in your yards such as trees, flowers, or your barbecue. Many landscaping companies do lighting services as well. If you choose to add accent lighting on your own, lights should be placed on the ground and tall posts.
This type of system is not for everyone but can add a whole new dimension to your backyard if you have one of these landscapes. Are you looking to save a little money installing the accent lighting? Self-installation may be an option.
If you do have the funds consider professional installation. It will be worth it in the end. Their equipment can bury wiring more efficiently, and they will make sure everything is up to code. Many companies can add it to your current pool lighting setup.
Is It Possible to Use Solar Power To Light My Pool?
Some people choose to install solar lights around their pools. This can be a great option for those who want to reduce their electric bill or use solar power to light their pool.
There are generally two types of solar lighting. One is individual cells set for certain lighting units. The next is a separate battery cell for the whole system.
Individual Solar Lights
Not only is this option environmentally friendly, but it can also be very cost-effective in the long run. When choosing solar lights, make sure you get a light that is designed for pools. These lights are typically more water-resistant than regular solar lights.
Solar lights can be as bright as traditional pool lights and still add a lot of atmosphere and beauty to your pool. If you do choose to use solar lights, remember the sun needs to be shining for them to function.
Solar Battery Pack For Entire Lighting System
This type of system is a little more expensive but can be worth it. If you want to use solar power to light your pool and do not have direct sunlight shining on your pool. This setup is the way to go.
They usually come with a panel that carries solar power to a battery cell in the pool equipment room. The battery then powers the lights in your pool when they need it most, at night and in cloudy weather conditions. This comes in very handy in the winter months when you will not be able to use the pool as much.
Like any other project, you will be doing, make sure you know what you are getting into before you start. Do your research and always hire professionals if at all possible. Once it is done you can enjoy your lighting for many years to come.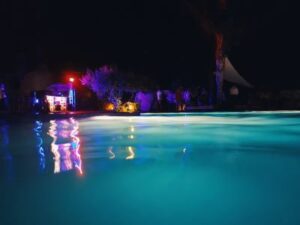 Light It Up
Fall is here and it is getting even colder every day. It's time to start thinking about your pool lighting needs. There are a variety of different options to consider. Each has its benefits.
Whatever type of illumination you pick, be sure it is UL certified for use outside. You have to do this to make sure your home's lights are safe. Using professionals for the installation is always a good idea. They will ensure the lights are placed correctly and according to code.