The Top 5 Budget Solar Pool Heaters
Solar pool heaters are a great way to extend your swimming season and save on energy costs. These solar pool heaters work by collecting sunlight and converting it into heat, which is then transferred to your pool water. Solar pool heaters are very efficient, and can often pay for themselves in just a few years through energy savings. Solar pool heaters are also environmentally friendly, as they do not use any fossil fuels or produce any emissions. However, there are several different types of solar pool heaters available on the market, so what are the top budget solar pool heaters?
The Top 5 Budget Solar Pool Heaters In 2022:
So now that you have an idea of the top-budget solar pool heaters, let's examine each of these solar pool heaters in greater detail. However, before that, let's go over some of the important factors to consider when shopping for a solar pool heater.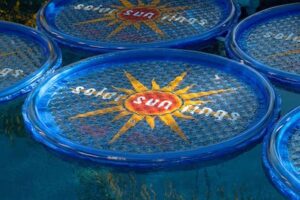 Things to Consider
With so many solar pool heaters on the market, how do you choose the best one for your swimming pool? There are a few things to consider when choosing a solar pool heater for your pool:
1. The size of your pool.
You'll need to know the square footage of your pool in order to select the right solar pool heater.
2. The climate you live in.
Solar pool heaters work best in sunny climates. If you live in an area with less sun, you may need to supplement your solar pool heater with another type of heater.
3. Your pool's exposure to the sun.
If your pool is in a shady area, you may not get as much solar heating as you would like.
4. The type of solar pool heater you choose.
There are two main types of solar pool heaters: solar panels and solar blankets. Solar blankets are less expensive but they don't work as well in cooler climates. Solar panels are more expensive but they're more effective in all climates.
5. Your budget
Solar Pool Heaters can range from $500 all the way to over $10,000 depending on your needs.
By keeping these factors in mind, you can choose the best solar pool heater for your swimming pool and enjoy it all year round. Now that we've gone over some of the things to look for in solar heaters or your pool, check out this list below that we've made of the Top five Budget Solar Pool Heaters in 2022! 
Keep your pool warm this winter with a polypropylene heat collector. The Direct Flow System – One Header Hole for Each Heating Tube Solar heater features 80 square feet of panels that will help you stay comfortable while saving money on energy costs! This accessory also works well in any ground swimming pool, just make sure to purchase an installation kit separately if needed because they're not included within the manufacturer's specifications
Review:
Heat
It took a while to get a sunny day after I put it up. But once the heat is on it can get the pool (16'x8'x42″) to 94 degrees. Caution! on a good sunny hot day the temperature at the discharge port can be up to 120 degrees and it can burn. So is good to be away from it for a few minutes until all the super hot water exit the panel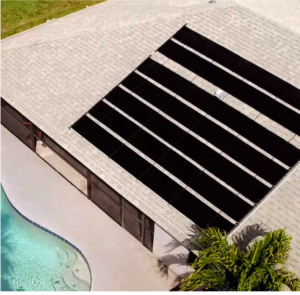 SunQuest's panel kits are customizable, affordable, and easy to install. They can be placed on the ground or roof of your home with no tools required! The heating element will keep water warm longer than an Electric Pool Heater and it won't cost you any extra money in power bills either because our Solar Panels produce clean energy which doesn't contribute towards climate change like fossil fuels do when generating heat! These solar panels are designed to give you the best performance for your home! They come with a .750″ wall thickness, which means they can withstand harsh weather conditions without compromising on durability! In addition, this high grade of material also helps prevent corrosion from occurring due to exposure to moist environments.
Review:
I actually bought this not expecting a lot because I saw mixed reviews I live in Canada and it's May right now I've been using the heater for about two weeks and as long as the sun is out the heater works great!!! Without this heater, the
pool was around
16° with the heater. The pool sits at 22° I also do have an insulated cover that I put on every night that really helps the pool keep its heat. My pool is 12×30 for reference.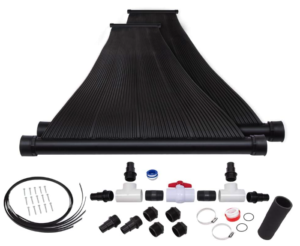 Solar Sun Rings work by converting 50% of sunlight into heated water. They're made from two sheets, one clear upper layer that holds insulating air and focuses the sun's rays on its blue lower half which absorbs nearly all surviving visible light before it can be absorbed by liquid crystals inside your swimming pool or spa – thus creating instant warmth! These rings will help you stay comfortable during those cold winter months when natural heating isn't enough because they provide added protection against freezing temperatures while also saving money not having to turn up the heat manually every day until springtime comes along again this year…
Review:
Saves Money on the utility bill
These work better than I expected! We are in coastal Los Angeles, so not in a hot area, and have a pretty small pool and it would usually stay about 81 degrees without heating. These will heat the pool once the sun shines directly onto them to about 86, which means no heating is necessary! It is a bit tricky to get the magnets to all hookup, but I have found if you just toss them in, they eventually find each other's magnets. I also am hoping that this keeps the water evaporation down since we are trying to save water. I originally bought 6 and then 3 more in order to cover the hot tub portion and have one spare.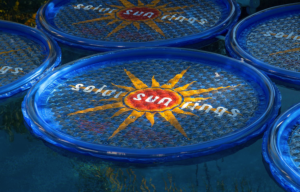 The In The Swim Premium Plus Pool Solar Blanket Cover 12 Mil is a great investment if you're looking to save on energy costs. It offers higher thermal efficiency and heat retention, which helps water heat faster! Our covers are made from durable polyethylene material that makes them easy to install by cutting the shape of your pool with scissors when needed – no sewing is required for irregular-shaped pools!
The In The Swim Premium Plus Pool Solar Blanket Cover 12 Mil will keep your water warm this swim season. Use it every day for five to seven days of consistent sunlight and you'll be able to stay warm in those waters! This product prevents heat loss, which means no more chilly morning dips before work! Instead, enjoy those long summer hours splashin' around with family and friends!
Review:
It Works REALLY Well!
My previous cover was the same without the black lining. WOWZA! The black lining makes a HUGE difference and already paid for itself in saved propane. And so far it's holding up like the last one (which lasted for several years).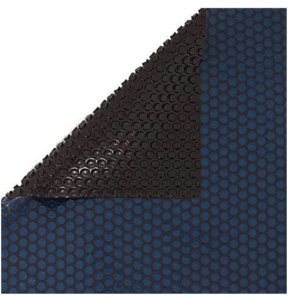 Sun2Solar's film of thousands of bubbles is designed to collect and retain heat, both at night as well on those chilly days. The blue color helps make it more appealing while also using the sun's rays for a warming effect that will keep your pool nice and warm all winter long! Show off your bravery by jumping in without the standard toe dip. The Sun2Solar solar cover has kept the water warm just for you and it's easy to put on, so go ahead!
Review:
Great cover
We've only had the cover for a few weeks, but, it has really helped raise the temp and slow evaporation. It has also lessened our Chlorine use. Not sure about the longevity of it, but, most only last a season or two and we cannot see it doing less.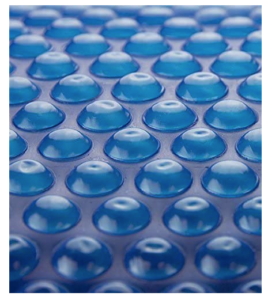 Conclusion
Thank you so much for reading my article about the top five budget solar pool heaters of 2022. I hope that it was helpful in choosing the right budget solar heater for your needs. If you're ready to make a purchase, simply click on one of the links above to be taken directly to the product on Amazon.com. There, you'll be able to quickly and easily complete your purchase. Thank you again for reading, and I hope that you have a great day!