Top 5 Above-Ground Pool Solar Heaters
A pool heater is a device that helps to maintain the temperature of your pool water. There are several different types of pool heaters, including solar-powered models. Solar pool heaters are a great option for those who want to heat their pool without using electricity. These types of heaters work by collecting energy from the sun and using it to heat your pool. That's why these are a great way to heat your above-ground pool without incurring the high costs of traditional gas or electric heaters.
What are the top above-ground pool solar heaters? Here are our picks for the top 5 above-ground pool solar heaters:
Above-ground pool solar heaters are very efficient and can save you a lot of money on your energy bills. However, there are a few things to consider when choosing a solar pool heater, such as the size of your pool, the climate you live in, and your budget. So, with all of this in mind, let's take a look at our top five above-ground pool solar heaters in order to help make this decision easier for you!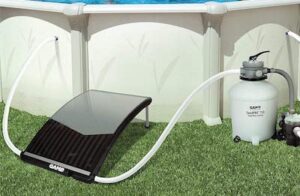 The days of having to turn on your gas or electric heat are over! Now you can enjoy a swim in the cold without worrying about how much it costs. This is because, with this solar pool heating system, all that's needed for creating warm water is sunlight reflecting off its panels. This system even works great during cloudy weather conditions as well. This allows you to add more time to your swimming season with free energy from the sun!
Additionally, if you want it warmer, you can connect multiple collectors to increase heating efficiency. Also, each dome can raise pool temps up to 10 degrees in seven days. The above-ground solar heating panels are an excellent way to save money and energy by using our solar pool heating system! These high-tech panels collect the sun's rays, warming water that circulates through them before returning it back into your swimming pool.
Review:
This solar heater is a good value for the money. It reliably raises the temp of our pool by 7-10 degrees on sunny days. We did have to purchase additional tubing and attachments to make sure the solar panels can be in the sun.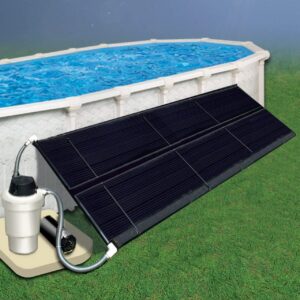 With VINGLI's solar heater, you can enjoy a warm pool longer and more comfortably. This high-quality and durable solar pool heater is constructed with high-quality materials so that it won't break down in sunlight as other models do! The convenience of having an energy-efficient and cost-effective pool heating system is hard to beat! Another great aspect of this product is that you don't have any unsightly wires or pipes laying around. As it is just one simple installation process that gets rid of all concerns about power outages in your backyard.
Review:
I was skeptical about the heating power of this item. It surprised me in a very good way. Easy to assemble gave me about 9 degrees in Florida weather is hot early this thing got us in the pool even sooner. Very sturdy construction good if you have dogs that can't walk all over it like some of the mat heaters.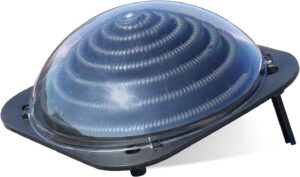 Heating your pool with SunHeater's solar pool heater is a cost-effective and environmentally friendly way to get warm this winter! This system captures free heat from natural rays, so you don't have to worry about using a fuel source. As this solar pool heater can raise water temperature 6-10 degrees with its efficiency in capturing energy from the sun. So, give your pool a boost with the above-ground solar pool heater. In conclusion, this system is suitable for your above-ground pools, and can add weeks to the season!
Review:
I read several reviews before buying which made me not want to buy this product. After purchasing the product and installing it, I really have to doubt those reviews. It is an excellent product and performs exactly as stated! My pool stays around 80-85F. I have a timer on my circulation pump for 15 min on/off. I turn the pump on around 9 am when the sun hits the heater and off when the shadows fall in the afternoon, 4 pm.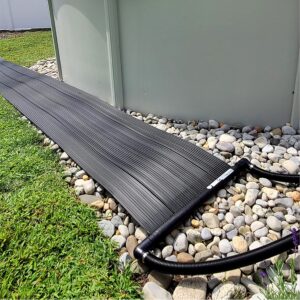 The GAME SolarPRO Curve Solar Pool Heater has been designed for above-ground pools. In an 8,000-gallon pool, this heater increased the pool temperature by 5 degrees in 4 days! The Game above-ground solar pool heater was designed with a unique curved shape that maximizes heat collection from the sun. Additionally, with this being made with high-quality materials, it is very durable and reliable, so you can be sure that it will hold up to constant exposure to the sun, as well as the elements. Another great aspect of this solar pool heater is its versatility from its compatibility with most above and inground pools, to its plumbing options from the added threaded ports.
In addition to this, other great things about this solar pool heater are the clear cover that locks in heat and its adjustable and foldable legs, as this allows the heater to be set for maximum sun exposure. Other general information about this GAME SolarPRO above-ground pool solar heater is that it includes adapters for 32mm, 38mm, and 40mm hoses that work with most above-ground pools, as well as extra parts for easy replacement.
Review:
I bought this solar panel for an above-ground 15 ft round pool. This thing has been great! After 1 day it was keeping the pool at 82 and by day 4 the pool was up to near 90! I will say that if you want to keep that heat though, you must have a solar cover so that your heat doesn't dissipate too badly at night. The last two days, we have had very little sun and cooler temps in the low 70s, and the pool was still sitting between 80 and 82. Our pump is also less than 1hp so the water flows through it at a pretty decent rate and still warms up nicely as it goes through the coils.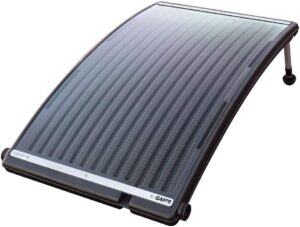 Numerous SunQuest panel kits are available to suit your requirements, as you can build what you need. They can be placed on the ground, on a rack, or roof and the hardware is included. Additionally, this product is more versatile and cost-effective than an electric or gas heater. Furthermore, if this solar pool heater is sized and installed correctly, it will raise your pool water by ten degrees. Thus keeping your pool warm and extending your swimming season. Another thing to know is that if you use a liquid solar blanket or cover, you will be able to maintain the heat for optimal results. In conclusion, these Sunquest solar pool heaters are of premium quality and they are highly rated for their performance and reliability.
Review:
Buy these panels. I replaced 3 old panels with 5 new ones. My panels have full sun all day and will extend my pool season! Very easy setup of the panels.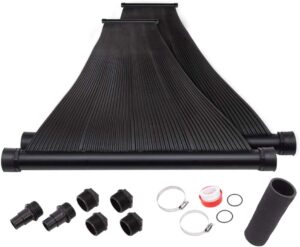 Conclusion
In conclusion, this was our list of the top five above-ground pool solar heaters. Above-ground solar pool heaters are a great alternative to traditional pool heating methods. As they are easy to install and do not require a lot of maintenance. Additionally, they can help you save money on your swimming pool heating costs, all while being environmentally friendly. As solar pool heaters work by absorbing the sun's rays and using them to heat the water in your pool. Solar pool heaters are a great way to heat your pool without raising your energy bills. Just remember to keep in mind the size of your pool, the climate you live in, and your budget when choosing a solar pool heater. Thanks for reading!